ECCO 7965 7970 7975 7980 Series LED Beacon Lights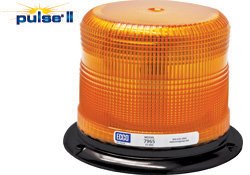 ECCO 7965 7970 7975 7980 Series LED Beacon Lights
The 7965/7970 Series beacon combines all the major benefits of the latest LED technology . Available in either 5" or 7" height profiles, a wide range of applications where a high-intensity SAE Class I light is required. 12-24VDC operation and 11 flash patterns that produce an attention-getting warning signal. 2-year warranty.
Features:
• 11 flash patterns
• Aluminum base, polycarbonate lens, Heavy Duty Available.
• Switched cigarette plug adapter (vacuum-magnet models)
• SAE J845 Class I (A & C only)
• SAE J845 Class II (B only)
• CE, R10
• Temperature Range: -22°F to +122°F (-30°C to +50°C)
• Warranty: 2 year.
7965 7970 Series Product Data Sheet: Click Here