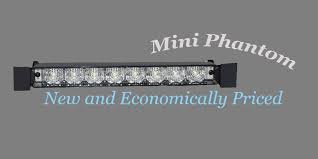 STAR ULB9E Mini Phantom
•Specs and Features:
• The ULB9E "patent pending" is perfect for undercover or unmarked vehicles.
• Flat front design hugs window for minimal flashback; great for side and rear vertical windows.
• Extremely lightweight!
• For interior applications only
• Slim profile - less than 1-1/16" high!
• 8 Mid power LEDs
• 25 customer selectable flash patterns, including steady-on
• Dimensions: 1 1/16"H x 9"W x 1-3/8"D
• Voltage: 10-16V DC
• Amp Draw: 0.4 amps average, 0.8 amps max
• Lighting color combinations: AA, AW, BB, BW, RB, RR, &
Model Numbers and Descriptions:
• ULB9E: Equipped with on/off switch and pattern select on cig. plug
• ULB9E-1: Equipped with 12' cable, synchronizable.
Included in the box:
• 1 - Starburst Mini Phantom Head with Cig Plug
• 1 - ULB9-HOOD-1 Flashback Hood with Windshield Brackets
• 1 - S111-6 Hood Gasket
• 1 - PLABULB9 Reflective Hood Label
• 2 - P30019-267 Pivoting Flush Mount Brackets
ULB9E Mini Phantom Product Flyer: click here